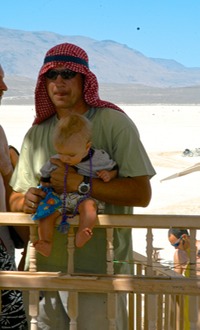 I attended my first Burning Man in 2004 with my wife and seven month old child.  We went on a whim and had no idea what we were getting into.
My wife and I have been back every year since (except 2005) and have become active participants.  We run a camp called Altitude Lounge which is a 42' tall tower with a lounge on top as well as a very bright LED navigation beacon.  Along with Altitude Lounge, I designed and installed the fire effects system at Opulent Temple and managed them from 2007 - 2010.  I also did fire effects for 3 art cars and you can find me DJing at Opulent as well as some other camps around the playa.
When away from The Playa I throw a fundraiser in Boise called Sensory Illumination to raise money for Opulent Temple and Altitude Lounge.  I also help with other events in city that help spread the Burning Man culture.  Here is a collection of some the information I have gathered and created over the last several years regarding the event.  Burning Man has been a wild ride and a life changing event and I will share what I know as a way to give back.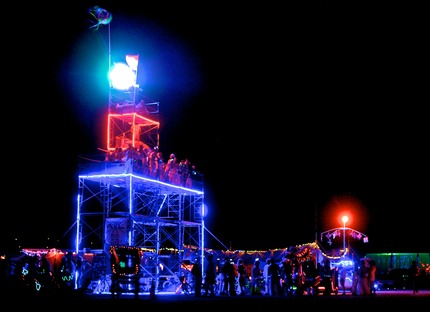 Here are links to my pages, you can also use the pull down menu above: